Banquet
The banquet will be organized with 'Les Bateaux Parisiens' on the Seine river, boarding at 8pm. How to Reach it?
Accommodation
There are diverse opportunities:
We propose rooms (double) 

close to the summer school location

: FIAP Jean Monnet. Price: 60€/night/person (i.e., 120€/night/double room) including breakfast and dinner !

Be reactive, few rooms are available! Contact: Wissam.Mallouli@montimage.com.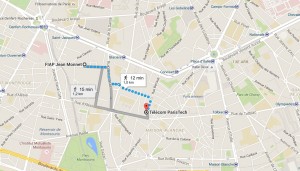 We also propose rooms on the Campus of Télécom SudParis. The Campus is located in Evry from where you can reach the summer school in 40 mn by public transportation (solutions for the transportation of attendees will be provided). The room fee is 200€ for the week. To book such a room, please contact Stephane Maag (Stephane.Maag@telecom-sudparis.eu).
There are also several hotels, for all prices, close to the summer school (TimHotel Italie Butte aux Cailles, etc.)
You can have a look to the hotels proposed here: list of hotels. Or to use the numerous available websites for hotels reservations by entering the address of the summer school in Paris: 46, rue Barrault, 75634 Paris, France.
Venue
The Summer School will be organized by Institut Mines-Telecom / Telecom SudParis and will be held in Paris, France.
The School sessions will take place in Paris city center, in the Telecom ParisTech buildings (amphitheater Emeraude - 46 rue Barrault, 75013 Paris), so that the participants can have a chance to discover the beautiful 'The City of Light'. A Seine River Cruise with a French style dinner is planned for the social event.
Last modify 6 July 2016